Albert Einstein reckoned the only reason we have time is so that everything doesn't happen at once.
If he was around today, he may have been forced into a rethink. Last year we saw one of the sharpest falls in financial markets ever, followed by one of the quickest recoveries.
Despite the globe still in the grip of a dangerous pandemic, the price of assets, commodities and financial instruments have continued their meteoric rise fuelled by massive amounts of stimulus, from governments and central banks.
The more they inflate, the higher pundits believe they'll go.
It's the everything boom. Real estate, stocks, metals, agricultural products; almost anything you care to name. Except for debt instruments like government bonds that collapsed from record highs in February and March. And gold, the ultimate store of wealth during uncertain times for several millennia.
Nothing, however, can quite match the boom in cryptocurrencies. In the past year, led by Bitcoin, they have soared to ever greater levels, despite warnings from monetary authorities about their highly speculative nature, their use in criminal transactions and the ongoing threat of regulation.
They've been largely dismissed by the establishment until recently. Lately, there's been a surge of interest from institutions that have taken a fresh look at Bitcoin and the vast array of competing cryptocurrencies, and a reluctant acceptance. There's money to be made, after all.
But the vast bulk of the interest, and perhaps the driving force behind the huge price surge in the past year, has come from households; ordinary people who have jumped aboard the rapidly accelerating train in a quest for riches.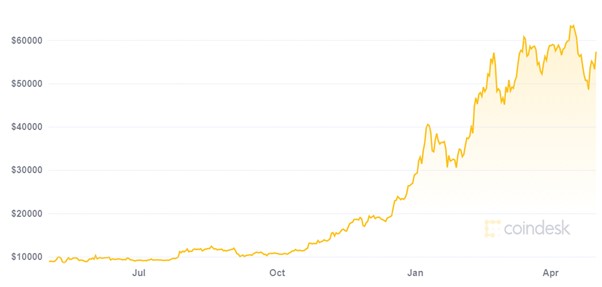 Why no one wants to spend Bitcoin
Laszlo Hanyacz became an internet sensation for all the wrong reasons. Back in 2010, he bought two pizzas from a Jacksonville Florida pizza joint and paid in Bitcoin; the first time anyone ever used the electronic currency as payment.
That alone should have been enough to put him in the history books. But his fame extends well beyond being a trailblazer. Poor old Laszlo forked out 10,000 Bitcoin for the doughy delight. In Australian dollar terms, based on yesterday's price, that would now be worth $753,510,000.
Let's hope he ordered the supreme. Or at least, the extra anchovies.
But Laszlo's misfortune has become one of the great obstacles in the acceptance of Bitcoin and other cryptocurrencies as a medium of exchange.
Consumers are unwilling to spend their Bitcoin; fearful they may end up like Laszlo. And merchants are…


Read more:Will Bitcoin replace gold as the ultimate store of wealth?