I

n this article, Frank Holmes, CEO of U.S. Global Investors and executive chairman of HIVE Blockchain Technologies, explores digital currencies, Tesla's crypto positioning, and the state of gold investments.

 

It's happening.

The acceptance of digital currencies as a form of payment expanded greatly last week, foreshadowing the increasingly important role cryptos such as Bitcoin and Ether will play in our lives going forward.

Both Visa [V] and PayPal [PYPL] announced they will begin allowing the use of cryptocurrencies to settle transactions. This came a week after Tesla's [TSLA] announcement that it will now accept Bitcoin as a method of payment, and a month after Mastercard [MA] signalled it would start supporting cryptos sometime this year.

PayPal's Checkout with Crypto, made available to select US users last Wednesday (31 March), gives consumers the ability to purchase goods and services at as many as 29 million merchants using Bitcoin, Bitcoin Cash, Ether or Litecoin.

What's more, there's no additional transaction fee.

Founded in 1998 by Peter Thiel and Elon Musk, among others, PayPal has become a trusted household name. 2020 was a record year for the online payment service as people were stuck at home and companies digitised their operations. Total payment volume was a massive $277bn, a 39% increase from the previous year, while the platform added 16 million new accounts, for a total of 377 million registered accounts.

Very soon, every one of these users will be able to use popular digital currencies to buy nearly everything, from a cup of coffee to a new car. This represents a huge leap forward for the still-emerging technology.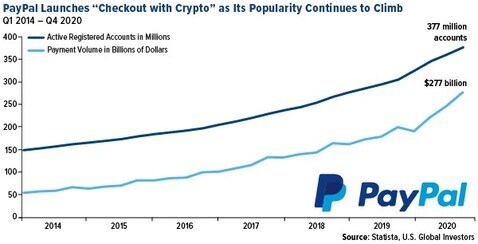 Meanwhile, Visa announced that it became the first payment processing company to settle a transaction with USD Coin (USDC), an open-source stablecoin backed by the US dollar. According to the coin's website, USDC "is issued by regulated financial institutions, backed by fully reserved assets" and "redeemable on a 1:1 basis for US dollars." As of 28 March, there were 11.3 billion USDC in circulation.
Not only will Visa users be able to make purchases with USDC, but Visa said it would also one day support new central bank digital currencies (CBDC) as they become available. According to the company, some 80% of central banks are strongly considering or in the process of launching their own national digital currency.
Mastercard is reportedly doing the same, announcing in February that it's engaging with "several major central banks around the world" as they develop CBDCs. At the moment there's no word on when Mastercard customers can expect to start paying with cryptos, or even which cryptos will be supported, but it seems likely we'll hear something soon now that Visa has taken the first step.
Tesla now accepting Bitcoin
Those of you in the market for a Tesla may have noticed that you can already select Bitcoin at…


Read more:Which payment platforms are backing cryptocurrencies?