Ethereum, Bitcoin, S&P 500, Dollar and EURUSD Talking Points:
Ethereum has leap frogged Bitcoin in its drive to record highs, but Warren Buffett and Charlie Munger think the charge akin to gambling

While the S&P 500 is still hovering at record highs, the six-day historical range is still extremely restrained and enthusiasm lacking

The Dollar Friday rally wouldn't carry over to the new trading week with EURUSD, GBPUSD and USDJPY moving back to range
The General Investor Clash
Over this past week, Warren Buffett and his deputy Charlie Munger held the Berkshire Hathaway Annual Shareholder meeting. Both men are phenomenal investors and consequentially they are both in their 90s. Few renowned people of the market will make it so long and build up such incredible wealth over an extended period of time (Buffett is worth over $100 billion and has been investing for over 80 years) by chasing every speculative craze. Then again, innovation in outlook and valuation for projecting the changes in the financial landscape are essential to staying out of the chop. That is the context we should consider when digesting some of their critical rhetoric for some of the most extraordinary trends in our markets at present. Munger outright said of Bitcoin – and by proxy other crypto – that he "hate(s)" its progress and that he sees it development "contrary to the interests of civilization".
Naturally, those that believe in the idea of a decentralized currency that can circumvent distortions like the central banks and governments disagree vehemently. From my own perspective, I'm skeptical that most crypto will make it in the long run and this degree of volatility doesn't make for a stable medium of exchange – not to mention regulators are circling like sharks. That said, innovation occurs in starts and fits while 'markets can remain irrational longer than we can remain solvent'. I do know that Bitcoin is up approximately 500 percent year over year and Ethereum hit a fresh record high this past session in a 9-day rally. Traditional fiat, corporate credit and blockchain are built on market belief. And, my traditional time frame does is not necessitate a 'ride or die' mentality that these two sides seem to be taking; so I don't see a reason to let faith override opportunity.
Chart of Ethereum and Dow 6-Month Performance with Consecutive Candles (Daily)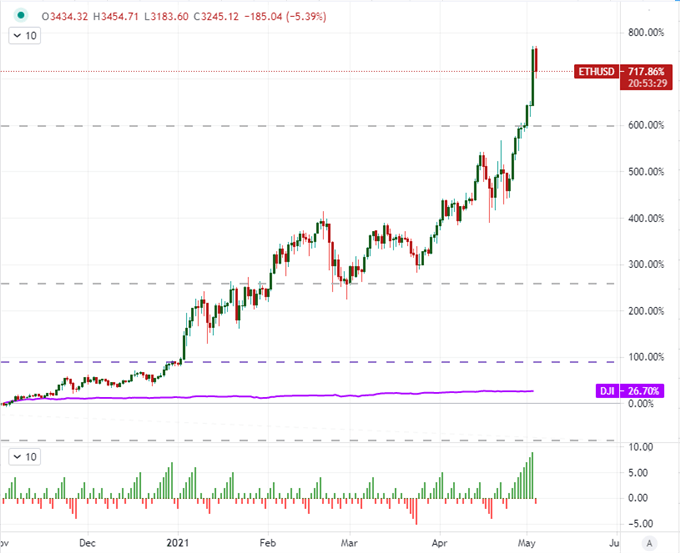 Chart Created on Tradingview Platform
Not all the grumbling at the weekend long-term investor summit was reserved for the crypto market. Buffett would also make clear his disdain for what he considered the enabling of what he considers to be 'gambling' in short-term investing which has grown particularly acute during the recovery from the pandemic. His scorn was not targeted at individual investors getting into the market but rather those that had he believed made markets seem easier and perhaps less risky than they…


Read more:Bitcoin Surge and Rise of Retail Trading Via Robinhood Draw Buffett Incredulity