Bitcoin has continued a healthy rebound from support at $50k. BAKE price heats up with 400% gain. FTM doubles from recent lows.
BTC
Bitcoin price gains have continued over the last week as the coin cements the support around the $50k level. There was a risk of further selling, but the bulls have kept the uptrend intact for now. 
One reason for the recent gains in BTC was another options expiration on Friday and this one was for $4.2 billion. Bearish options traders have obviously been moving along the expiry dates with large bets and when the expiration comes, BTC has room to move higher.
The bellwether of the cryptocurrency market will now seek to move back to the $60k level, which capped the upside in recent weeks. 
Bitcoin has also begun its 'Taproot' update, which is the coin's biggest upgrade in years. The move will see Bitcoin multi-signature transactions cheaper, more private, and easier to deploy. Miners can include special data in their blocks from now and the upgrade will activate in November. 
Binance CEO Changpeng Zhao has said that the volatility of BTC is probably less than that of stock prices of companies with similar market caps, such as Apple and Tesla.
Volatility is everywhere. It is not unique to crypto 
The crypto exchange CEO also said that speculators are a driver, saying:
There's always a large number of people having the herd mentality than the guys who actually do serious research. Whenever there is some negative news, they run away, whenever there's positive news, they try to rush in and so they do cause more volatility.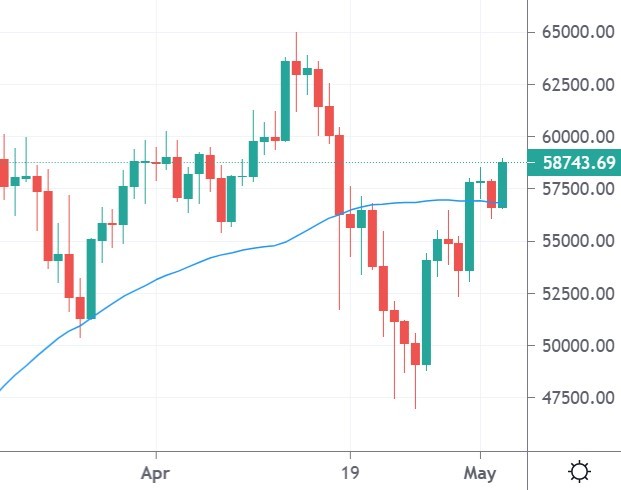 BTC saw a slump to $47,500 as traders bailed out on longs, but the recovery now sees the coin above the 50-day moving average. A push through the $60k level has the all-time highs at $65,000 within reach once more. Previous fears over a crackdown on financial institutions have failed to emerge, but that would be a headwind, along with a US dollar rally after the greenback saw a strong week. Rising virus cases in the likes of India are a threat to the recovery story in the overcooked stock market.
LTC
Crypto trader and analyst Michael van de Poppe has predicted a potential 65% move in LTC/BTC in the coming weeks. "Litecoin looks great for a bullish impulse wave," he said.
Van de Poppe told his 70k+ Youtube followers that the coin could power higher and a move of that magnitude would see the coin likely testing its all-time high versus BTC, which was $375 in late-2017.
Litecoin has seen ETF investment products set up recently which will draw institutional investors, while Grayscale Asset Management suggested that large investors had been moving outside of BTC to invest in other coins. That explains the Ethereum move above $3,000 this week and LTC has also been strong. Grayscale reported in a Tweet last week that the company is approaching $50bn of assets under management.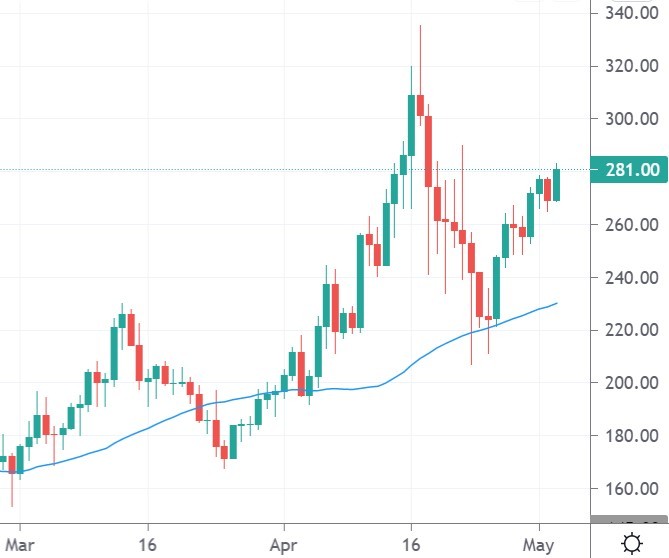 Read more:Bitcoin Price Finds Support for $60k Push, Analyst Sees LTC Rally, BAKE, FTM, May. 3